by Josué Aruna
Dear Colleagues & members of wetlands Forum in Africa.
I hope this message finds you well.
Certainly, the World Wetlands Day 2015 February Edition approaches fast.
Remembering Kigali, Kampala, East Africa for Anglophone members, and now in Cotonou, Benin in West Africa for Francophone members, the UNESCO-IHE and other partners have continued to put us together to strengthen our interaction to exchange personal experiences on our way to attract the attention of our communities and policy makers of our countries on the wise use of African wetlands for the benefit of the humanity.
I realize that each of us is preparing it in his own way to attract the attention of the public on the importance given to wetlands in their entities.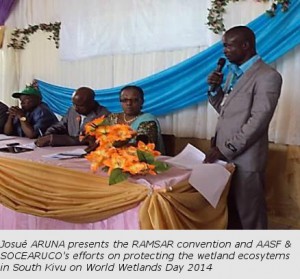 I think with or without means, we can make a difference and do actions that will encourage others to turn their eyes toward the importance of wetlands and different ecosystem services.
In this year; we want if possible, to share with you our different planning of how we expect to celebrate the wetland day by educating and involving a collective mass in our country (DRC) on the wise use of wetlands.
- In December 2014, we started to set up local monitoring committees of transboundary wetlands between the DRC and Burundi
- The commemoration of World Wetlands Day in the DRC will be in the following four sites:
In Bukavu on February 2nd: an advocacy walk will be organized by NGOs member of my network from our office to the provincial assembly parliament hall. Our key message is "We want local regulations for the future management of wetlands and freshwater in DRC". Two advocacy meetings have already been made on this issue with local parliamentarians;
In Uvira on February 9th an awareness campaign is planned from the city to the border with the Republic of Burundi on NIANGARA transboundary wetland at the edge of Tanganyika Lake, the opposite side of the RAMSAR site in Burundi;
In

Kamituga

a mining city: we want to restore the ecosystems of the basin of a river through reforestation in the mining sites to reduce natural disasters and pollution of the river water.
In

Goma

, the capital city of North Kivu province, a meeting of NGOs members of my network will be organized to reinforce and encourage people to say, a non-collective destruction of the VIRUNGA National Park by the SOCO, the Oil Company, on this UNESCO site and international RAMSAR site in DRC.
A workshop of experts on wetlands is planned in Bukavu on early February and will bring together scientific experts with parliamentarians to help the latter to think on the key elements that could constitute the regulation of local politics that can guide the future management of wetlands in the DRC, as a basis for action to be able to influence the decisions of policy at national level.
Dear Colleagues, this message is a call to the conscience of all members of the Wetlands Forum. May it be Public sector, NGOs and civil society. It depends up on how you think you will take it in your country and share with us, your personal or collective experiences in this domain; that is the concern of the Wetland Forum.
To UNESCO-IHE our partner:
To assist us on making a link on which we will have to post photos and actions carried out in the field and set up a special blog or an editorial.
Best wishes for the New Year 2015 and good success in our work to promote wetlands of local, national, regional and international importance.
Pastor Josué ARUNA
Coordinator of the NGO AASF and SOCEARUCO Network, DRC Bukavu
Tel: +243994013754 +243892011085
josuearuna@gmail.com